By the end of 2017, through eight excruciating years, The Foundation will have raised awareness of, encouraged volunteerism for, and given out more than $400,000 in grants to more than a dozen organizations important to Stone and to Holt. Thousands of people have donated, engaged, and worked in creative and compassionate ways
to make this possible.  
With your help, The Foundation has: supported blood cancer research and fundraising; staged blood drives which served many hundreds, sponsored children with muscular dystrophy to attend summer camps in Chicago and Washington; benfitted cognitively and physically disabled Americans, including veterans; contributed to green home repairs and home building for low-income homeowners in Washington, DC and tornado victims across the United States; assisted building projects around the world; served the large homeless populations in Houston, in Washington, DC and in Maryland; helped to protect the environment surrounding America's National Parks and to encourage environmental education; sent many hundreds of Washington, DC public school children on nature field trips; contributed to wildlife preservation worldwide; provided medical and rebuilding aid to earthquake victims and school children in Haiti and Nepal, orphans in Nepal, and people impacted by Hurricane Sandy on America's Eastern Seaboard, Typhoon Haiyan in the Philippines and Hurricanes Matthew in Haiti, Harvey in Texas, and Irma and Maria in the U.S. Virgin Islands and Puerto Rico.
And The Foundation has encouraged and supported volunteerism especially among young people around the nation.

All of this is done in loving memory and in honor of Holt and of Stone -- in our heartbroken attempt to keep their beautiful spirits alive and at work in this world.
****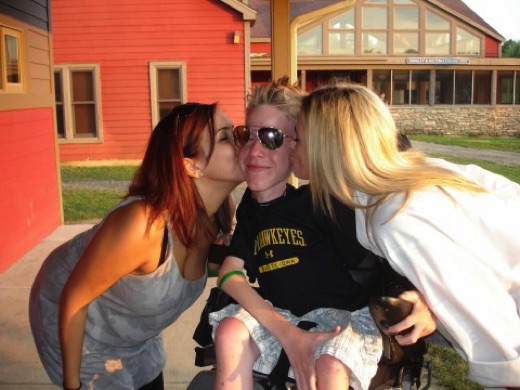 Muscular Dystrophy Association Camp Chicago, 2010